Miami's Global Art Festival, Dec. 1-6, 2015: Discovering the Riches Beyond the Exclusive Art Basel
Monday, December 14, 2015 - 14:36
Sure, there were Picassos, Chagalls, Moores, and other blue-chip master works at the festival's main event, Art Basel, at the Miami Beach Convention Center. And, of course, they moved me. But overall, the show felt remote, in part because of a confusing layout but mostly because the pieces, like those in a world-class museum, were unattainable except to upper-crust collectors. Ironically, that crowd – who flew in from Canada to Chile, from Europe to Asia – elevated my engagement. Dressed in colorful, smart, imaginative designer styles, they were living art, especially the exotic, voluptuous, raven-haired Latin American women patrons.
My inspirational experience deepened outside the Art Basel walls. Wandering the streets, I soaked in the Miami vibe: the beaches, the balmy breezes, the palms, the elegant historic Art Deco architecture, and the sensual Caribbean music, food, and fashion. During my exploration, I found three other shows more accessible and appealing: Scope on South Beach's sandy shore, Aqua Art Miami in South Beach's Aqua Hotel, and Art Miami in midtown Miami's Wynwood Arts District. They spotlighted more affordable works of living contemporary stars and emerging artists with clever points of view, inventive techniques, or ingenious use of materials.
Some stand outs. . .Sebiha Demir constructs animal sculptures -- like a lively, funny gorilla -- with .22 bullet sleeves. . .The all-black paintings of Karen Gunderson conjure what appear to me as seascapes of undulating waves deep in the ocean. The American artist fashions illusions based on white light reflected off raised edges of varied brush strokes. . .Danish artist Gugger Petter specializes in larger-than-life mosaic-like portraits made of tightly rolled strips of newspaper woven together by a traditional loom. . .A work by Brooklyn's Lisa Corrine Davis might seem like graffiti, but I saw a highly intricate, three-dimensional, geometrical bird's-eye view of a cityscape with skyscrapers, plazas, parks, catwalks, and sidewalks.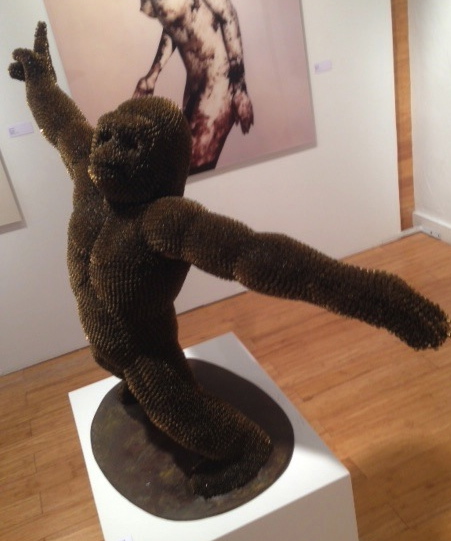 By discovering the riches beyond the exclusive Art Basel, I was energized, feeling like new things were possible. Perhaps I'll experiment with some unorthodox materials in my art and eventually show in Miami. In due time, the dividends will emerge.
Jacqueline Savaiano has written and/or reported for the arts and show business for TIME, People, Life, Entertainment Weekly, New York Times, Los Angeles Times, Chicago Tribune, and other international and national publications. She is also a painter, sculptress, and mix media artist based in Carlsbad, Calif. Her artistic works and credentials can be view at www.jacquelinesavaianoart.com.
Photos by Jacqueline Savaiano