A Mix of Media Piece Together a Rich Modern Tableau at Mexico City's Art Week
Saturday, March 12, 2022 - 12:43
Mexico City is a magnificent mosaic of artistic culture.  There are the archeological finds of the Mesoamerican ancients of Teotihuacán.  The Gothic and Baroque influences of the Colonial Period as glorified in the Metropolitan Cathedral.  The Art Nouveau and Neoclassical trends of the early 20th Century as reflected in the Gran Hotel's iconic Tiffany stained glass windows. The customs of indigenous people dignified in Diego Rivera murals and their creations honored in museums and sold in street markets.
And then there's the flowering contemporary art scene watered by Mexico City's Art Week each February.  During my visit last month to various shows of this most recent international celebration, I became fascinated by the smallest pieces of this current corner of the larger mosaic -- the materials and media themselves, some tried-and-true, others unusual -- and how they were used to create works that were frequently imaginative, sometimes humorous, and occasionally stunning.  Here's a glimpse of some of the works that most intrigued me.  When viewed together, they piece together a rich tableau of present-day art.      
At the main city center show, ZONAMACO, I first found mettle in the metals.  Cristina Romo and Eduardo Herrera of Mexico City mine silver, copper, alloys, and gold to fashion one-of-a-kind artisanal jewelry inspired by nature.  A favorite – and a piece that I purchased – is a handsomely elegant necklace strung with agave-shaped leaves made with silver, alpacca (grey metallic of copper, zinc, nickel, and tin), and tumbaga (gold/copper alloy first found in pre-Columbian Mesoamerica).  On a larger scale, the Bogotá-based Hechizoo represent Colombian textile artists who weave rugs, wall hangings, and window coverings with metallic fibers that shimmer, even appear to shake, from light reflections.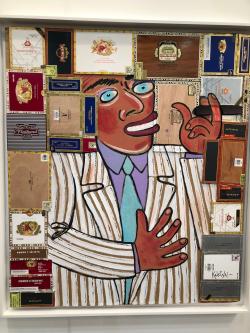 Some materials were downright funny. Cameroon artist Pascale Marthine Tayou stitches together patches of whimsical childlike cutout figures made out of fabric or towels onto towel bases.  Russian-born Alexander Kaletski creates collages of product labels gathered off the streets of his current home New York City for painting backgrounds, such as cigar box covers that complement a cartoony image of a cigar-smoking man in a pinstriped suit.   For his Pop Art Mesoamerican sunburst piece, Sabina Guisu of Oaxaca painted the backsides of skateboards in shiny black and black-and-electric orange geometric designs. 
Old standbys continued to deliver exciting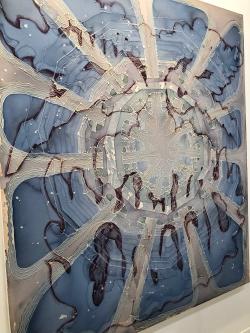 results when applied inventively. Australia's modern indigenous Aboriginal artists meticulously pattern thick paint dots into breathtaking earth-colored abstract painting designs.  Syrian American artist Zhivago Duncan of Mexico City applies dye on canvas and then beeswax for lining and texture in his kinesthetic metaphysical abstractions.   
The most impressive part of the Salon Acme show in the Juarez neighborhood was the artistry of Prim Public Project venue itself and its glorious display of stone, metals, and plants.  A contemporary cultural center for exhibits and events, it consists of two spaces of the early 20th Century Mexican-French fusion Porfirian architecture.  These majestic granite buildings with marble floors – a mix of Art Nouveau and Neoclassical design first built in 1905 as a multi-family dwelling – feature multi-story rooms with French doors that ring and overlook ground-floor courtyards with open-air staircases, ironwork, and vegetation.  A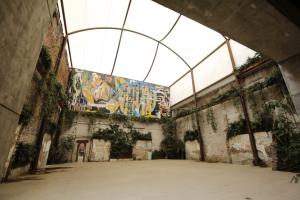 large open space between the buildings – the setting for the "beautiful young artists"-style evening parties – is canopied with a faux ceiling of steel beams over an abstract mural for an edgy, industrial feel.
The building of the city's just-opened art venue LAGO in Chapultepec Park also shone for its design as well as materials.  It is a modernist edifice with two-story all-glass façade and a tent-like hyperbolic paraboloid roof with a double-curved surface like a potato chip.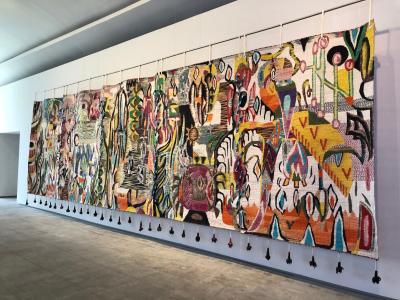 A few works at LAGO's inaugural show "Form Follows Energy" jumped out, most notably the tapestry by French artist Yann Gerstberger now living in Mexico.  PPP Amazonia stops the heart, not just for its size, as it dominates an industrial-sized space wall at some 8.5 feet by 29.5 feet, but also for its astonishing use of hand-dyed mop yarns woven into images of tropical birds, comets, rain forests, gardens, butterfly hunters, and fire. From a distance, the images are clear, but when viewed closely, they become almost blurry due to the soft texture of the yarns, much like the pixels of a zoomed-in photograph.
One patterned abstraction also stood out because its tiny pieces are the conceptual message.  From Troika, a collaborative art practice based in London, Reality is Not Always Probable is an observation on the human experience shifting from the material to the virtual.  It is made of 70,000 ivory dice on wood – some with six pips, some with one – grouped line by line to manually emulate the rules of the computer binary system, as if to say all of life is reduced to 1s and 0s.     
A sad yet increasingly true commentary that, fortunately, was belied by Art Week.  Challenging the cold technological takeover of our lives, the international art festival transported me into a warm and vibrant emotional world.  Its works also contributed, bit by bit, piece by piece, to a burgeoning cosmopolitan contemporary art scene that will continue to deepen the larger complex mosaic of the ever-evolving world-class artistic heritage of Ciudad de Mexico.
Jacqueline Savaiano has written and/or reported for the arts and show business for TIME, People, Life, Entertainment Weekly, New York Times, Los Angeles Times, Chicago Tribune, and other international and national publications.  She is also a painter, sculptress, and mix media artist based in Carlsbad, Calif.  Her artistic works and credentials can be view at www.jacquelinesavaianoart.com. 
Photos by Jacqueline Savaiano