Palm Springs: An Oasis of Desert Modernism Architecture
Monday, June 21, 2021 - 15:28
Residing in Los Angeles for almost 30 years, I had visited Palm Springs three times.  I hiked in nearby canyons and mountains, shopped a bit, dined, and swam and played tennis at resorts.  Palm Springs was known to me as a desert respite, not a cultural draw.  The fine arts required searching.  Exclusive galleries catering to the local moneyed crowd of retirees and celebrities were under the radar and spread out.  They needed to be mined like jewels of flora and fauna that hid under the sand or in shaded patches to survive the desert extremes.
Turns out, as I easily and surprisingly discovered during a recent visit in early June, Palm Springs is awash with very fine art right in front of my nose.  Famous retro architecture is brimming on every street, corner, and mountainside.  In fact, Palm Springs is a world-renowned hub of the mid-20th Century Modern Movement.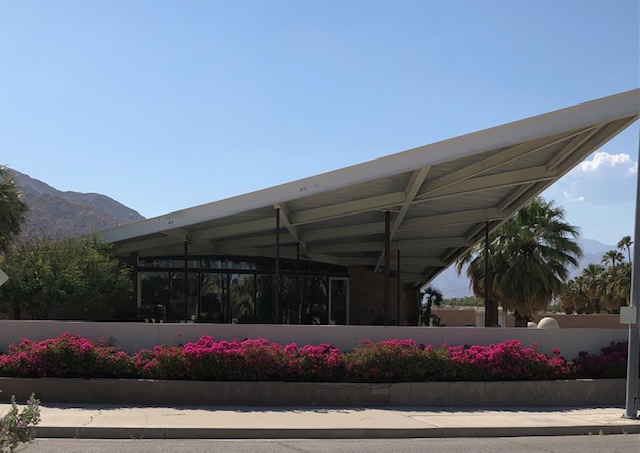 While design aficionados have likely known this for a while, the city works to reel in new general public fans to its unique architectural oasis during Modernism Week.  This annual February happening celebrates its particular brand of Desert Modernism through events, shows, lectures, sales, and tours of iconic homes.  The 2021 activities were postponed to October 14-17 due to COVID-19.
Modernism and Desert Modernism: Simplicity and Grace   
Clean, sleek, minimalist.  Those traits underscore every aspect of the Modern Movement.  Think Mies van der Rohe's Barcelona chair, shift dresses and mini skirts, Twiggy's pixie hairdo, and Mark Rothko's iconic color-saturated meditative paintings recently featured so gloriously in AMC's brilliant 1950s and 1960s period television series Mad Men. 
Modernism architecture – also occasionally referred to as the International Style –honors geome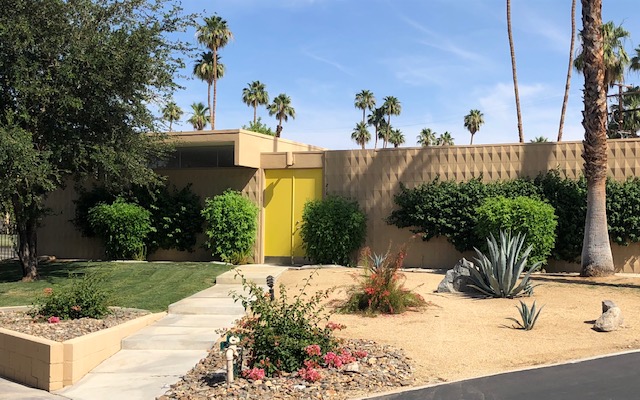 tric forms and angles, lack of ornamentation, practicality, and functionality and uses concrete, steel, and exposed structural elements for visuals.  Desert Modernism, in particular, embraces Palm Springs' mountain views and the warm climate with large windows and sliding glass doors that let light enter rooms from many angles. Other signature features are deep overhangs for cooling shade, mixture of natural and manmade materials, and the free flow of indoor and outdoor space. 
Many of the Palm Springs structures were designed over four decades or so by a handful of Los Angeles-based architects who moved to the desert retreat beginning in the mid-1930s and helped birth the progressive design movement.  Among them: William Cody, Albert Frey, William Krisel, Donald Wexler, E. Stewart Williams, Richard Neutra, and John Lautner.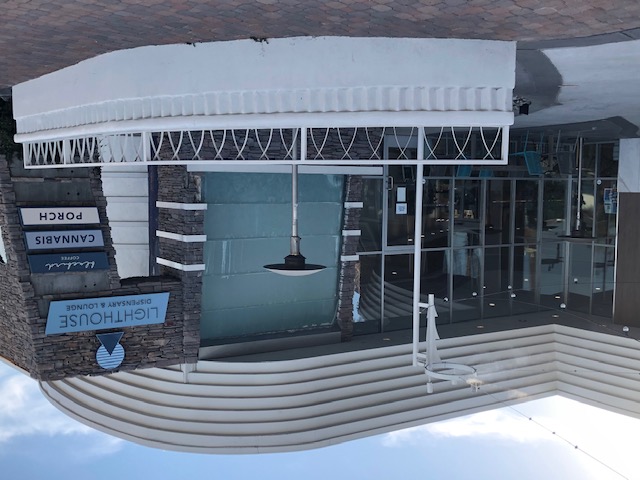 Here, There, and Everywhere
Like the sand, rocks, and scrubby brush infused into the desert vista, Desert Modernism saturates the city's visual landscape. 
It strikes you upon arrival.  Fly in, and the Palm Springs International Airport's main terminal cloaks with a tensile structure canopy made of steel (Wexler, 1961).  Enter on the north end from Interstate 10 along North Palm Canyon Drive and the Tramway Gas Station, now the Visitor's Center, welcomes with its dramatic arrowhead-shaped hyperbolic paraboloid overhang of steel I-beams and corrugated metal roofing supported by steel tubular pillars (Frey and Robson Chambers, 1965).  Drive in via the south of town from the San Bernardino National Forest via California Hwy 74 and notice several housing developments of ranch-style homes with low flat roofs, high front-side windows, and floor-to-ceiling glass doors and windows on the backside, such as the landmark Sandpiper Condominiums at El Paseo and Hwy 74 in Palm Desert (Krisel and Daniel Palmer, 1958-1969).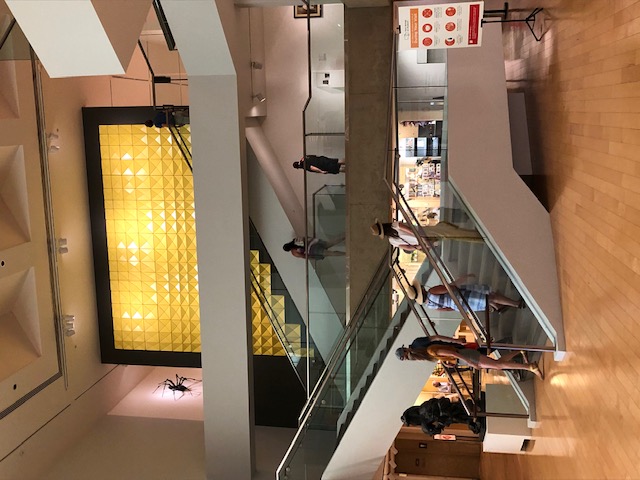 With the help of a self-guided tour map from the Visitor's Center, the curious can enjoy the exteriors of some 80 additional historic structures in Palm Springs proper alone.  They are banks, department stores, restaurants, hotels, churches, government buildings (including the DMV), medical buildings (human and animal), museums, schools, and libraries.  Popular sights are Frank Sinatra's home with piano-shaped pool (Williams, 1947); Dinah Shore's 6-bedroom spread with floor-to-ceiling windows and palm tree clusters (Wexler, 1964); and Elvis' honeymoon hideaway with circular layout and wing-shaped roof and overhang (Krisel, 1962) – all located in the sought-after Old Las Palmas north-side neighborhood.   
My personal favorite was a little more humble: a cannabis lounge on the North Palm Canyon Drive main street.   
More recent constructions for contemporary businesses keep up the legacy.  I howled upon seeing the butterflied roof overhangs and frosted opaque window blocks for a KFC, Staples, and Public Storage.
Key Landmark Designs
Here are thumbnails, illustrations, and links for some of the most historically significant.   
Elrod House (Lautner, 1968)– Perched on a south mountain side along the private Southridge Drive, this stunningly chic home – a famous location for the James Bond film Diamonds Are Forever, starring the ever-cool Sean Connery – beautifully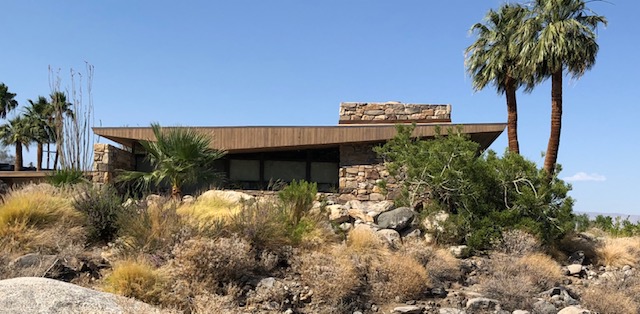 combines architecture and nature.  The soil was excavated, but the rocks were kept in place and run straight through the walls and windows.  The large circular concrete canopy above the main living area with a circular glass design affords panoramic views of Palm Springs, the Sonoran Desert, and the San Jacinto Peak.  (See link for photos) https://www.jamesbondlifestyle.com/product/elrod-house-palm-springs-usa
Bob Hope House (Lautner, 1978) –Just a few doors down from the Elrod House, the 24,000-square-foot structure lodged into the hillside looks like a UFO with its sweeping arched roof and 60-foot-wide oculus that causes the desert light to dance throughout the house.  It also showcases natural material such as Brazilian granite, African mahogany, and quartzite.   (See link for photos) https://www.latimes.com/columnone/la-me-col1-bob-hope-house-20190606-htmlstory.h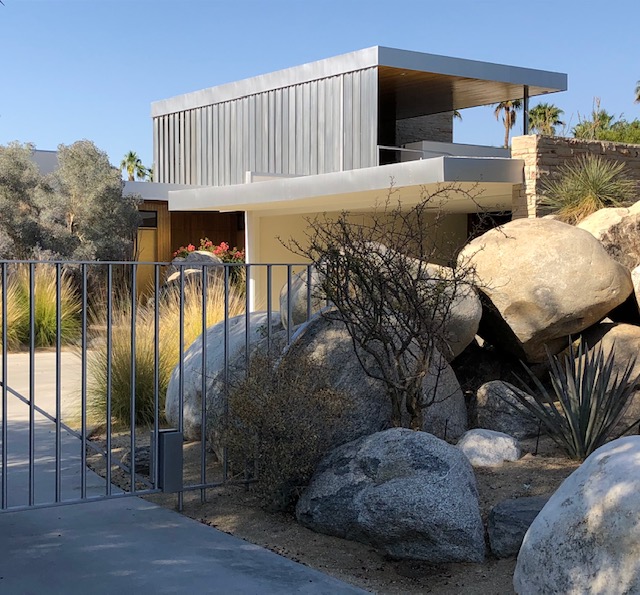 Palm Springs Art Museum (Williams, 1976) – The substantial exterior stone facing and a sleek roofline contrasts with the open and bright spacious interior defined by crisscrossed lines of diagonal stairways and horizontal floor walkways, frosted yellow glass blocks, and stone space dividers.  Designated as City of Palm Springs Class One Historic Site.
Edris House (Williams, 1953) – Teetering atop a rocky outcrop in Old Las Palmas neighborhood, it features wood and stone exterior walls, long lean winged overhanging roof, and floor-to-ceiling window walls for fabulous views.  Designated as City of Palm Springs Class One Historic Site. 
Kaufmann Desert House (Neutra, 1946) – It fuses glass, steel, stone, and wood, including birch-veneered plywood, concrete and silica sand floors, and floor-to-ceiling glass walls outfitted with striking vertical aluminum louvres to protect against desert heat.  Like a pinwheel, various wings radiate from the central living and dining rooms. The gloriette – a peaceful outdoor space above t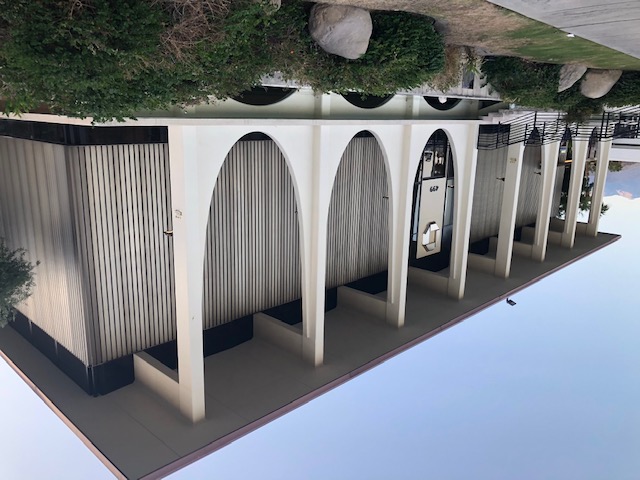 he house – bypassed zoning codes that forbade two-story structures.  Designated as City of Palm Springs Class One Historic Site. https://www.dwell.com/article/kaufmann-desert-house-richard-neutra-palm-springs-real-estate-13a9d381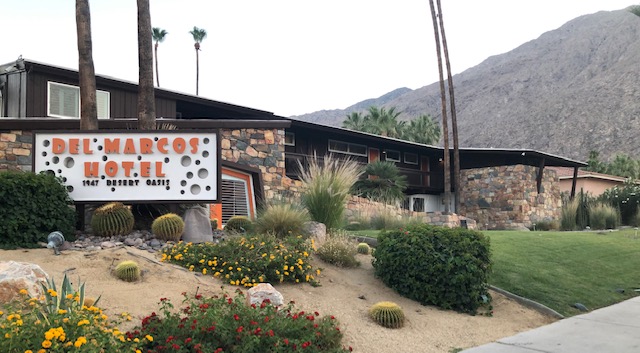 Coachella Valley Savings & Loan, No. 2, now Chase Bank (Williams, 1960) – The commercial building along the North Palm Canyon Drive main street enthralls with inverted arches of reinforced concrete that rise to form columns that hold the flat roof with deep overhang.  Listed on the National Register of Historic Places. 
Del Marcos Hotel (Cody, 1947) – Located in the heart of downtown, this hotel feels and looks a little funky from the outside today with its bubbly sign and tangerine-colored roofline, but during post-World War II, its early Modern period design was considered cutting-edge for a resort hotel.  It is built of native stone and redwood and features an organic asymmetrical entrance doorway and a U-shaped plan centered on a courtyard to aid socializing among guests.  An inside look reveals minimalist elegance and grace true to its time period.  Designated as City of Palm Springs Class One Historic Site.  https://delmarcoshotel.com/overview/about/
The Design Well Runs Deeper   
And so, during this visit – my fourth – I found my general thirst for fine arts culture surprisingly quenched by this oasis of Desert Modernism architecture.  Luckily, if I want a refresher, the design well runs very deep.  I can return and enjoy special inside tours during Modernism Week to draw on what's underneath the lush visual garden of the iconic homes' stone-and-wood facades and louvre-shaded glass walls --  Modernist furniture, contemporary paintings and sculptures, palm tree-and-pond landscaping.  I'll happily partake of those cool libations.  
Jacqueline Savaiano has written and/or reported for the arts and show business for TIME, People, Life, Entertainment Weekly, New York Times, Los Angeles Times, Chicago Tribune, and other international and national publications.  She is also a painter, sculptress, and mix media artist based in Carlsbad, Calif.  Her artistic works and credentials can be view at www.jacquelinesavaianoart.com. 
Photos by Jacqueline Savaiano
FACT SOURCES:
https://www.visitgreaterpalmsprings.com/blog/post/13-things-you-didnt-know-about-greater-palm-springs/
A Map of Modern Palm Springs, Brochure, Palm Springs Modern Committee